Friday 28th February 2020, 7pm – 9pm
Hurst Village Hall
Hurst Neighbourhood Plan – Update
Also an update on "Local Plan" for the Northern Parishes
---
Thursday 25th October 2018, 4pm – 8pm
St Nicholas School
We will be holding a drop-in session specifically businesses and landowners in the parish.
If you would like to be involved or simply wish to discuss any issues / concerns / ideas you may have, then please come along to the drop-in session.
Summary of the Business and Landowner Consultation
---
Throughout September we will be holding a series of drop-in sessions around the village. Please come along to your local session to find out more about the Neighbourhood Plan and to discuss any issues / concerns / ideas you may have.
Saturday 1st September 2018, 10am – 12 noon
The Wheelwrights Arms – for residents of Davis Street Ward
Saturday 8th September, 10am – 12 noon
St Nicholas School – for residents of the Village Ward
Saturday 15th September, 10am – 12 noon
The Warren Inn – for residents of Ashridge Ward
---
Saturday 18th August 2018, 1pm – 4pm
Hurst Horticultural and Home Industries Show
Come and have your say at the Hurst Neighbourhood Plan stand at the Horticultural Show, inviting all Hurst residents to say what you think about traffic, development, facilities, etc.
You can comment on almost anything you like / dislike about Hurst and put it on the Wish Map.
---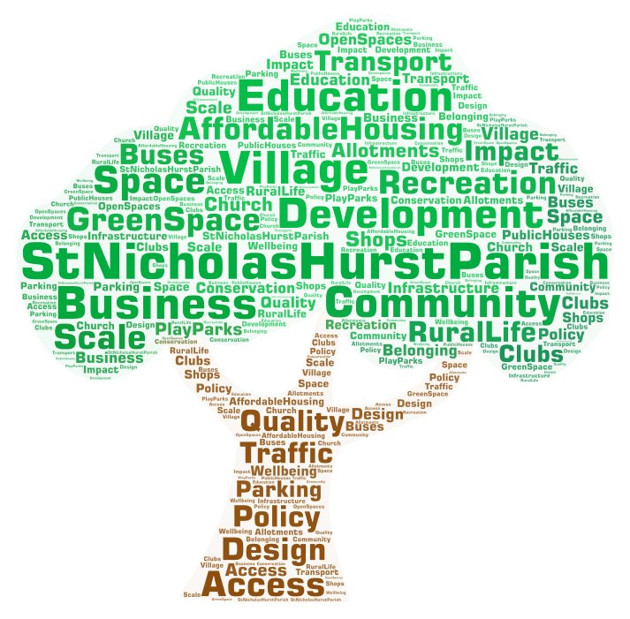 Saturday 23rd and Sunday 24th June 2018, 10am – 4pm
Hurst Show and Country Fayre
Come and have your say at the Hurst Neighbourhood Plan stand at Hurst Show, inviting all Hurst residents to say what you think about traffic, development, facilities, etc.
You can comment on almost anything you like/dislike about Hurst and put it on the Wish Map.
Summary of the Hurst Show Consultation
---
Friday 8th June 2018 at 7:30pm
St Nicholas School Hall
Come and hear the progress on the Hurst Neighbourhood Plan with an opportunity for you to ask questions.
The meeting will be preceded by a short HVS AGM